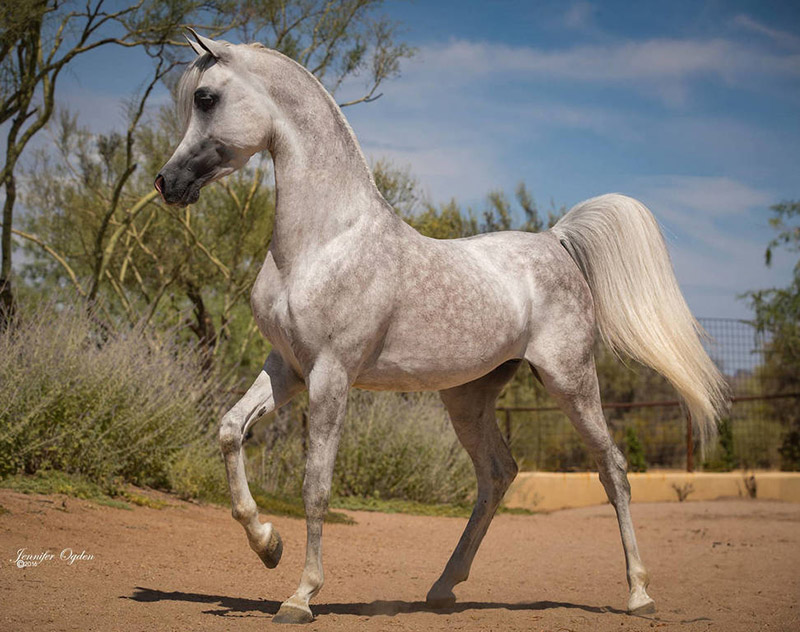 ABOUT Al Fayeed SWF
from Adam Diehl, Arabian Pedigree Research Services
AL FAYEED SWF is a dynamic young stallion by the renowned sire WH JUSTICE out of the EL SHER-MANN mare SHERVASTA. His shimmering rose grey, reminiscent of the desert sands from whence his ancestors came, reflects a beauty far more than skin deep. Displaying a regal presence, powerful and elegant movement, extreme beauty, balance and athleticism, he faithfully exhibits the finest aspects of his breeding in one harmonious package. According to AL FAYEED SWF's breeder, David Cains of Stonewall Farm, WH JUSTICE progeny take time to mature and, as a rising four year old, he is just begining to show his true potential.
Perhaps the most prominent feature of AL FAYEED SWF's pedigree is his two crosses to international champion EL SHER-MANN through his dam, SHERVASTA, and paternal granddam, VONA SHER-RENEA. His pedigree draws primarily from Spanish, Egyptian and Crabbet sources, including many important and influential individuals. Not the least of these is *EL SHAKLAN, exemplar of the famed golden cross between an Egyptian stallion and Spanish mare, by way of his sire SHAKER EL MASRI, and dam, the famed ESTOPA; their combined legacy within the Arabian breed cannot be overstated. Between 1987 and 2003, EL SHER-MANN earned at least 11 national and international championship titles, mostly in the capable hands of Frank Spönle. Although his get are few in number, they are uniformly exceptional, mirroring his classic type, correct structure, powerful movement and flamboyant character, all of which they reliably pass on to their progeny. Their scarcity only increases their value as breeding stock and the presence of not one, but two, of his descendants in AL FAYEED SWF's pedigree makes him a rare gem indeed.
Much of what makes SHERVASTA and VONA SHER-RENEA, and, in turn, AL FAYEED SWF, special derives from the contributions of their dams, which build on EL SHER-MANN's foundation in distinct and complementary ways. SHERVASTA's dam, the straight-Egyptian SHAIKHINAH GLORY, is a daughter of SHAIKH AL BADI. Her pedigree is interlaced with many of the most prized Egyptian lines, including *MORAFIC, *ANSATA IBN HALIMA++, SULTANN, BALANCE, NAZEER, and the esteemed mares *BINT NEFISAA and MONIET EL NEFOUS. SHERVASTA reflects their contributions in her flat topline, elegant carriage, extreme type and refinement, and fluid movement. By contrast, VONA SHER-RENEA, is out of RENEA, whose breeding derives primarily from CMK sources, including important contributions by ABU FARWA, *RASEYN, *RAFFLES, *WITEZ II, and ANTEZ. Her classic type, outstanding athleticism, and sparkling attitude exemplify the best of her lineage. In combination, these lines lend AL FAYEED SWF an exceptional balance, totaling more than the sum of their individual contributions.
AL FAYEED SWF is by WH JUSTICE, arguably the finest son of MAGNUM PSYCHE. With his rose grey color, distinctive bloody shoulder marks, and incredibly striking head, he is one of the most recognizable Arabian stallions in the world. His show career spans over 15 years and has earned him 20 championship titles, with many notable wins including five at the Paris European and World Championships and three at the prestigious All Nations Cup in Aachen. Beyond being an exceptional individual, his most recent title, as 2015 Arabian Breeders World Cup Champion Sire, attests to his ability to pass his most desirable traits on to the next generation. His beauty, correct conformation, exquisite movement, and amiable personality supply the necessary foundation for excellence in any arena, as his offspring have demonstrated many times over with their numerous wins in hand and under saddle. His contributions to AL FAYEED SWF are apparent, in both his outward appearance and inward character.
AL FAYEED SWF's pedigree is rounded out by contributions from MAGNUM PSYCHE and his sire, PADRONS PSYCHE, who make up the sire side of WH JUSTICE's pedigree. In addition to their many show ring wins, MAGNUM PSYCHE and PADRONS PSYCHE have collectively sired over 1,100 champions, including more than 300 national winners in North America alone. Their get have excelled in almost every arena, claiming national wins in hunter pleasure, western pleasure and competitive trail, endurance, and halter divisions, to name just a few. It is through MAGNUM PSYCHE that AL FAYEED SWF draws most of his Spanish blood, through A FANCY MIRACLE, the daughter of Spanish imports *SASAKI and *MEDINA AZAHARA. PADRONS PSYCHE, meanwhile, contributes Russian, Polish and Crabbet blood through both sides of his pedigree, including lines to *TAMERLAN, *PADRON, KILIMANDSCHARO, and, reaching deeper, SKOWRONEK, INDIAN GOLD, and MESAOUD. Both the beauty and innate athleticism of these lines are immediately apparent in AL FAYEED SWF.
AL FAYEED SWF represents the culmination of centuries of careful selection, combining the influences of many outstanding individuals into a singular entity, embodying all their best traits. AL FAYEED SWF exemplifies his ancestors: true in type, sound, athletic, elegant and charismatic. He announces himself to the world; with bloodlines rooted deep in history, he represents the strongest branches of the Arabian breed, carrying their influence into the present, a wellspring of genetic potential for future generations.