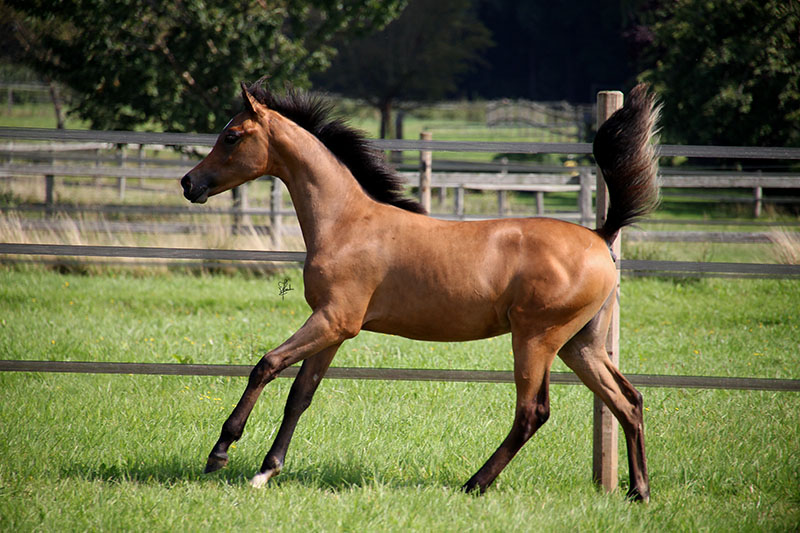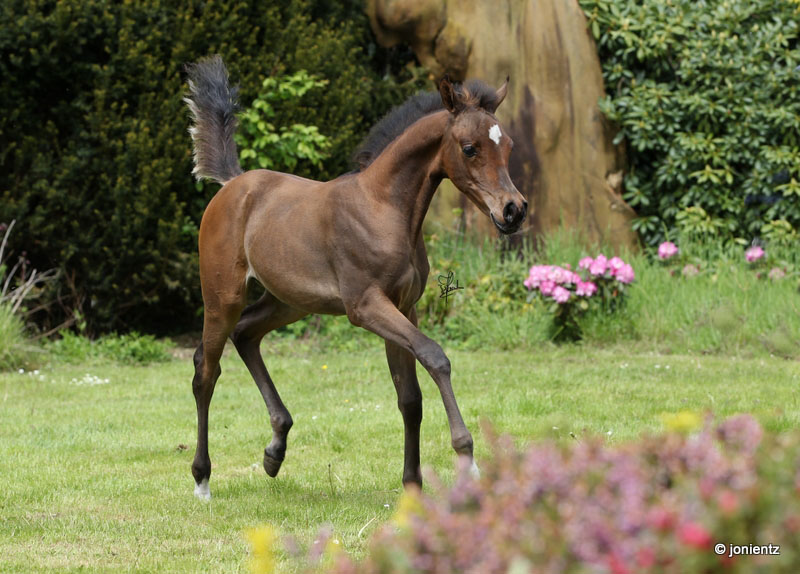 COF

COF Celeste
Godiva CF x MF Aryan el Thessa
2015 bay Filly
CA and SCID clear by parents
SOLD

ABOUT COF Celeste
from Adam Diehl, Arabian Pedigree Research Services
GODIVA CF's daughter for 2015, is by multi-champion MF ARYAN EL THESSA, the first French-bred stallion to sire champions on all five continents. His beauty and correctness have garnered him wins including Top-5 Colt at Menton and the German National Championships in 2005, Reserve Champion Colt and three Top-5's at Wels, Third at Vilhelmsborg and First at the Championnat D'Alsace. His achievements as a sire are equally impressive, with progeny holding over 40 national and international wins including at least 19 Champion and 16 Reserve Champion titles.
MF ARYAN EL THESSA is by JD CHALICE, 2002 Aachen Stallion Show Silver Champion and 2009 Wales and West Senior Bronze Champion Stallion. He is the sire of multiple champions and producers of champions, most notably multi- nationalwinning mare MF HELONA, herself the dam of multi-champion colt BOURHANI ALDEBARAN. His sire, LUDJIN EL JAMAAL, is a son of three-time US and Canadian National Champion ALI JAMAAL, by the outstanding mare LYDIRA EL SHAKLAN, whose dam LYDIA adds additional Spanish blood to sire EL SHAKLAN's famed Golden Cross. LUDJIN EL JAMAAL show the elegance, hardiness and athleticism typical of these lines and has demonstrated his merits both as a show horse and renowned sire. His wins include a 1994 Canadian Top-10 Stallion title in addition to a handful of class-A halter and Western Pleasure wins, but all are exceeded by his excellence as a sire of champions and champion-producers. His legacy includes the notable stallions JONATHAN EL JAMAAL, ARYES EL LUDJIN, and the exceptional broodmare LARA EL LUDJIN. JD CHALICE descends from a very strong maternal line. His dam, JD SPLENDOR, is the granddaughter of CEDARDELL CAMEO, 1970 US Top Ten Mare and a 4-time regional Champion at halter, and of US National Reserve Champion Stallion BEY SHAH+, who sired over 115 champions. This combination of strong CMK lines has proven to nick exceptionally well with those of LUDJIN EL JAMAAL, and is carried by many of his champions and champion-producers. Also represented is BRANDIE ALEXANDRA, a MUSCAT granddaughter by two-time US National Top-10 Stallion *SR NADOM+ out of the outstanding Polish/CMK mare BRANDIE.
On his dam side, MF ARYAN EL THESSA carries a second cross to ALI JAMAAL through THESSALYA EL JAMAAL, out of TALYA EL HARDUN, who contributes additional Spanish blood from her sire HARDUN. Her dam, *TALBREENA is by the famed *TALAL, who earned US National Top-10 Stallion honors after a long and successful racing career in Egypt, and who is considered by many to be the finest NAZEER son to set foot in the United States. *TALBREENA is out of the multichampion halter and Western Pleasure mare BREEZE. In addition to THESSALYA EL JAMAAL, TALYA EL HARDUN produced full-brother TALLYEN EL JAMAAL, who has won an impressive 13 get of sire titles in Brazil in addition to his own wins in halter and most classic head divisions.
Before beginning her career as a brood matron, GODIVA CF earned success in the halter arena with titles of 2007 Region 2 Top-5 Yearling Filly and 2011 Tulsa State Fair Reserve Champion Mare. She is by US National Top-10 Colt PSYCHES LEGACY, out of the DESPERADO V daughter DESPERADO ROSE. PSYCHES LEGACY has sired 80 foals, including 34 champions in North America with achievements both in-hand and under saddle. He carries on the legacy of his dam, the Aristocrat Mare KAIYNDA SPECIAL, and sire, the legendary PADRONS PSYCHE, the sire of over 550 champions.
KAIYNDA SPECIAL, was a class-A Halter champion and Hunter Pleasure competitor, but is most noted for produced an astounding 15 champions, tying TW FORTEYNA for the title of top-producing Aristocrat mare of all time. Her sire, KAIYOUM++, won five Western Pleasure and eight Halter championships, including 1980 Canadian National Champion Stallion, and sired at least 65 champions in North America. KAIYOUM++ is by noted performance sire KHEMOSABI++++//, one of the breed's all-time topproducing sires with nearly 400 champions to his name, 93 of which are National winners. His dam, BAYANKA, produced two Legion of Merit winners and one Legion of Supreme Honor winner and her sire is BAY-ABI++, a US National Halter champion with Top-10 titles in both English and Western Pleasure. BAYANKA, in turn, is out of Varian Arabians foundation mare *BACHANTKA, 15/16 sister to *BASK++ and the dam of four champions, including two national winners and multiple producers of champions.
GODIVA CF's dam, DESPERADO ROSE, carries two crosses to BAY EL BEY++. The first is through her sire, DESPERADO V , a HUCKLEBERRY BEY++ son and Sire of Significance with over 300 champions to his name, including 78 North American National winners. HUCKLEBERRY BEY++ too is a Sire of Significance, with US National titles in English Pleasure and Halter and nearly 400 champions among his get. The second is through her dam, the BARBARY+++ granddaughter ASPEN COLORADO, who is by the straight-Russian stallion MARYK (by *MUSCAT), a flashy mover who sired 15 Champions in diverse divisions ranging from Western Pleasure to Side Saddle, including five national winners. Additional crosses to important Polish and CMK foundation horses fill out her pedigree, including *BASK+, *WITEZ II, RAFFLES, RASEYN and the desert-bred MIRAGE. With this blend of exceptional bloodlines, GODIVA CF is a natural cross to MF ARYAN EL THESSA. COF Céleste demonstrates the success of this cross, combining the best qualities from both sides of her pedigree in one outstanding package.