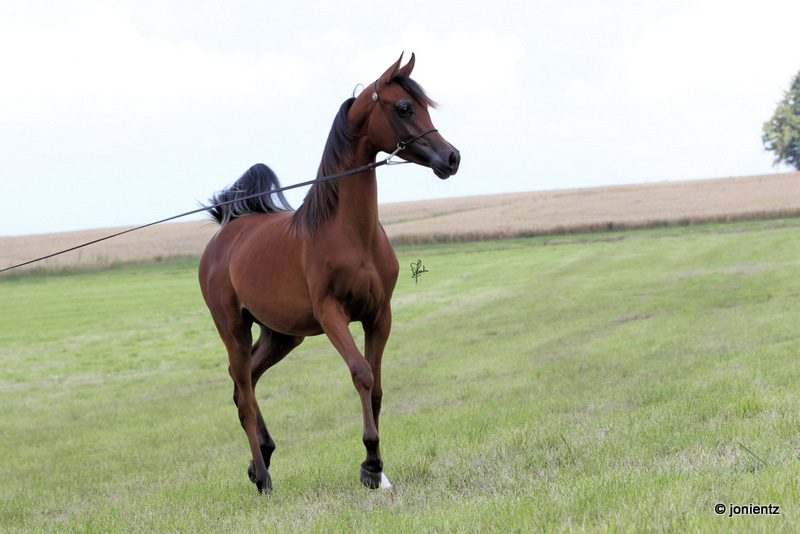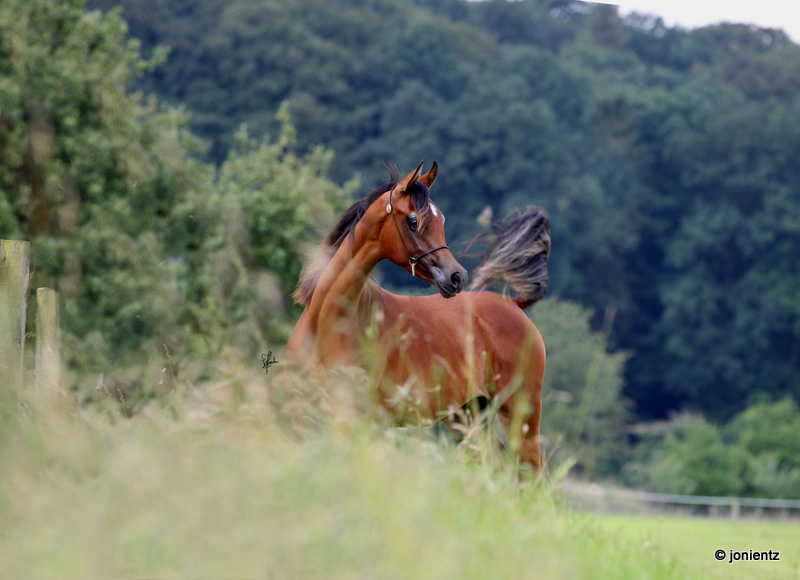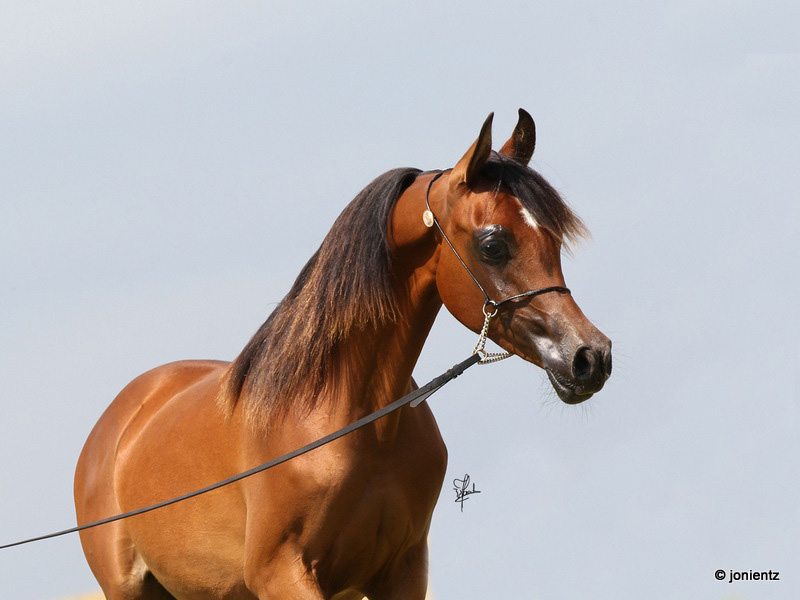 ABOUT COF Majidah
from Adam Diehl, Arabian Pedigree Research Services
COF MAJIDAH, by KANZ ALBIDAYER, is OFW HAHANAH's foal for 2015. A filly of remarkable quality, she mirrors her sire and dam, both of which are outstanding in type, athleticism and blood. Her pedigree carries many of the most influential names of the last century, blending lines of Spanish, CMK, Polish, Russian and Egyptian origins, and she truly exemplifies all their merits.
OFW HAHNAH is a powerful mover with exceptional action, a graceful neck and high head and tail carriage, all of which are apparent in her first foal: COF TRU ANGEL, by TRUSSARDI, winner of the 2012 Arabhorse.com Most Beautiful Baby contest and 2013 Bronze Champion in the 1-3 Year Old Filly division at Kauber Platte. OFW HAHNAH's sire, MAJESSTIC, was named US National Yearling Colt/Gelding Breeders Sweepstakes Reserve Champion in 2004 and Top-10 Futurity Breeding Colt in 2006. His offspring are both beautiful and athletic, and have won championships in Halter and Hunter Pleasure. He is by 2001 US and Canadian National Reserve Champion Futurity Colt, 2010 US and Canadian Top-10 Stallion and four-time Scottsdale winner BESSON CAROL, out of regional Top-5 mare ROHARA MAGNIFICA, a daughter of 1992 US and Canadian National Champion Stallion ECHO MAGNIFFICOO. ECHO MAGNIFFICOO is an outstanding sire whose classic CMK, Polish, Spanish and Egyptian heritage lend his offspring exceptional elegance, type and, in particular, athletic ability. He is among North America's most successful performance sires, with 183 champions in the US and Canada, of which 60 are National winners, collectively holding 190 titles in disciplines ranging from Fourth-Level Dressage to Arabian Jumpers, Working Hunter, Reining and Working Cow Horse. ROHARA MAGNIFICA's dam, *SAVANNAH DSA, is a daughter of the well-known Tersk-Bred stallion PLAKAT SU, a son of ASWAN. Continuing up MAJESSTIC's sire line, we find the outstanding *ALI JAMAAL son, PARYS EL JAMAAL, 1997 US National Reserve Champion Stallion and the sire of 45 champions including nine US and Canadian National winners holding 30 titles between them along with French National Top-3 Filly MSA EVENING SONG.
BESSON CAROL is out of *CLASSIC KRYSTALL, a SIMEON SHOR daughter out of FRANGELICA, by *ALADDINN out of a COGNAC mare. In the show ring, SIMEON SHOR was a testament to Arabian versatility, winning in classes from Halter to Western Pleasure, Hunter Pleasure, Dressage and English Show Hack and, although he sired only 40 offspring, seven were Champions.
KANZ ALBIDAYER exemplifies the Arabian breed, with a large, soft eye, refined muzzle, pronounced jibbah, finely tipped ears and a long, gracefully arched neck perched atop a strong, well-sloped shoulder. He is elegance in motion, carrying himself proudly, with outstanding reach and elevation, and high head and tail carriage. His merit is borne out by an exemplary show record: he holds six Gold Champion, three Silver Champion and one Bronze Champion Junior Colt titles, has won two Best Head awards and earned the title of European Futurity Colt at the 2010 Elran Cup. He is by the WH JUSTICE son AJMAN MONISCIONE, renowned for siring exceedingly typey, correct foals. He is among the most successful sires in recent years and his offspring have made quite a splash: in 2014 alone, they won no fewer than 43 championship titles in Europe, America and the Middle East, often winning multiple divisions at the same show, as they did at Verona, the Italian National Championships (where his daughters swept the Junior Female Championship division), German National Championships, Brecht, Ikast, Salzkotten, the French National Championships, Lyon, Vichy, and the Warsaw Arabian Horse Festival. KANZ ALBIDAYER is out of DL MARIELLE, a daughter of MARWAN AL SHAQAB, 2008 World Champion Senior Stallion, who was named Leading Sire nine times on three continents. DL MARIELLE is a full sister of World Champion stallion MARAJJ, out of regional Top-5 halter champion RGA KOURESS, who has produced five champions and four producers of champions. KANZ ALBIDAYER is proving to be an outstanding sire, his foals exemplifying his type, conformation and movement. With just a few showing in the 2013 and 2014 seasons, they have had multiple successes, including three national halter titles, a testament to their sublime beauty and outstanding movement.
COF MAJIDAH proudly carries on the legacy of both sides of her pedigree, showing the type, refinement and correctness inherent to her lines. With this foundation, she is poised to excel in whatever career lies ahead of her and will undoubtedly live up to the legacy of her ancestors.