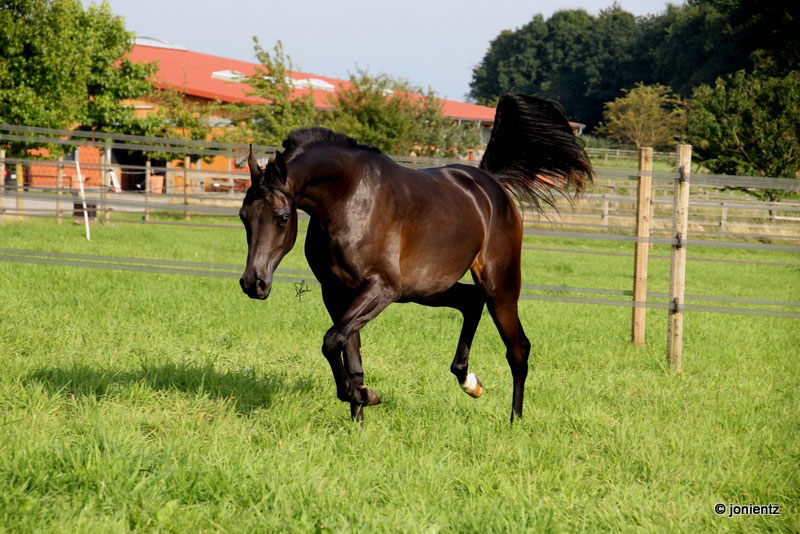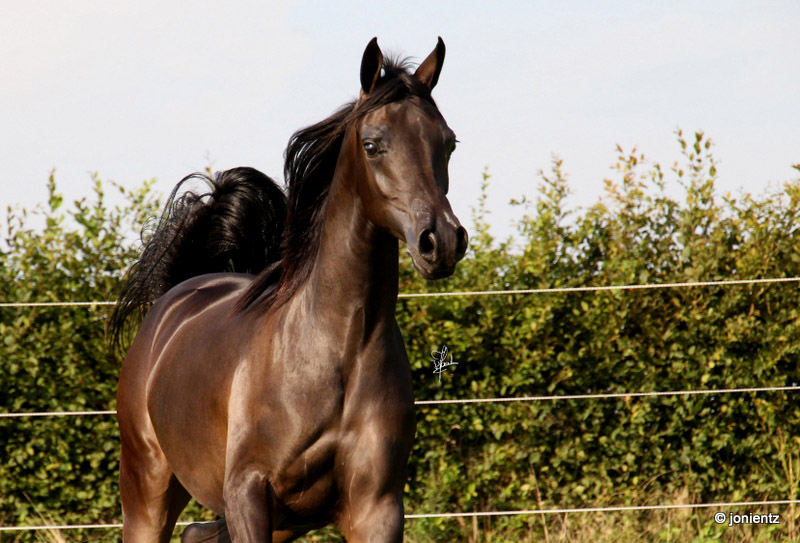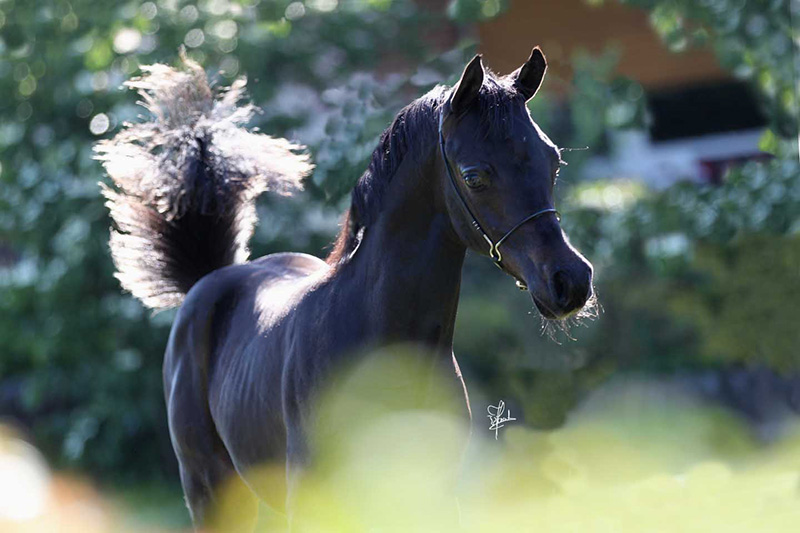 ABOUT COF Padrons Princess
from Adam Diehl, Arabian Pedigree Research Services
COF PADRONS PRINCESS, an exquisitely typey dark bay filly by 2004 Canadian National Champion and US National Reserve Champion Futurity Colt GR PSYCHES REY, joined the Color of Fame herd in February 2014. She is the latest out of GODIVA CF, daughter of the DESPERADO V mare DESPERADO ROSE, and her breeding is exceptional, with crosses to PADRONS PSYCHE and grandparents out of Aristocrat mare KAIYNDA SPECIAL on both sides of her Pedigree.
KAIYNDA SPECIAL was a class-A halter champion and Hunter Pleasure winner who produced 15 champions to tie TW FORTEYNA as the top-producing Aristocrat mare of all time. Her beauty, type and record as a producer were no mere coincidence: her sire KAIYOUM++ was the winner of five Western Pleasure and eight Halter championships, including the 1980 title of Canadian National Champion Stallion, and he sired at least 65 champions in North America. KAIYOUM++ is by noted Performance sire KHEMOSABI++++//, whose progeny epitomize versatility, having excelled in disciplines ranging from English Pleasure to Working Cow Horse and everything in between. Nearly 400 among his get are champions and 93 have won national titles. KAIYOUM++'s dam is BAYANKA, who produced two Legion of Merit winners and one Legion of Supreme Honor winner and she is by the incredibly versatile stallion BAYABI++, a US National Halter champion with Top-10 titles in both nglish and Western Pleasure and an exceptional sire as well, with multiple national winners to his name in both the US and Canada. AYANKA's dam is Varian Arabians foundation mare *BACHANTKA, 15/16 sister to *BASK++ and the dam of four champions, including two national winners and multiple producers of champions.
On the sire side of the pedigree, KAIYNDA SPECIAL has been matched with FAME VF+, 1987 US National Champion Stallion and Reserve Champion at Canadian Nationals and Scottsdale in 1986. He is the grandson of English Pleasure and Halter champion BAY EL BEY++, who sired 96 champions, 34 of which hold national titles, and he passed his talent as a sire to FAME VF+ through BEY SHAH+, sire of over 115 champions. Carrying on their legacy, FAME VF+ has sired over 300 champions, 98 of which are national winners, and their impact on the breed is immeasurable. Among their ranks are international greats including VERSACE, DESERT HEAT VF+/ and LITTLE LIZA FAME, dam of international champion and influential sire MARWAN AL SHAQAB. Crossed with KAIYNDA SPECIAL, the resulting foal was TREAT ME SPECIAL, who grew to be the dam of four champions: full-siblings GR PSYCHES REY, LC PSYCHESPECIAL, LC SPECIAL EFFECT and TF PSYCHES FAME, all National or Regional winners by legendary sire PADRONS PSYCHE, whose get include over 500 champions in North America alone. GR PSYCHES REY, in addition to his US National titles, also holds two Scottsdale top-10's and Regional Champion and top-10 titles at halter. He has an impressive record as a sire, with 21 champions among 45 progeny in the US and Canada through 2014, holding titles in halter, western and hunter pleasure, and sidesaddle.
On the distaff side, KAIYNDA SPECIAL is paired with PADRONS PSYCHE to produce US National Top-10 colt PSYCHES LEGACY, sire of 80 progeny including 34 champions in North America, with achievements spanning both halter and Performance arenas. DESPERADO ROSE brings two more crosses to BAY EL BEY++. One is through Sire of Significance DESPERADO V, sire of over 300 champions including 78 North American National winners. The second is through multi-champion park horse BARBARY+++, who holds an impressive seven national titles and an equally impressive career as a sire. DESPERADO ROSE is out of the *MUSCAT granddaughter ASPEN COLORADO; her sire is the straight-Russian stallion MARYK, a flashy mover who sired 15 champions including five national winners in park, hunter pleasure, english pleasure, western pleasure, native costume and sidesaddle. Her dam, COLORADO, is by BARBARY+++ and out of BASCINDA, who brings crosses to renowned Polish horses including *Bask+ and *Witez II, and prominent CMK foundation sires RAFFLES, RASEYN and the desert-bred MIRAGE. Crossed with PSYCHES LEGACY, DESPERADO ROSE produced the outstanding and refined mare GODIVA CF, who holds the tiles of 2007 Region 2 Top5 Yearling Filly and 2011 Tulsa State Fair Reserve Champion Mare.
GODIVA CF's blend of Russian, Polish, CMK and Egyptian lines nick beautifully with those of GR PSYCHES REY to produce COF PADRONS PRINCESS. Typical of a mare with her breeding, COF PADRONS PRINCESS has exceptional size, type and charisma, correct conformation and bold, powerful movement. The potential inherent in her pedigree suits her equally well for halter or performance and she will surely excel at whatever task to which she is put.