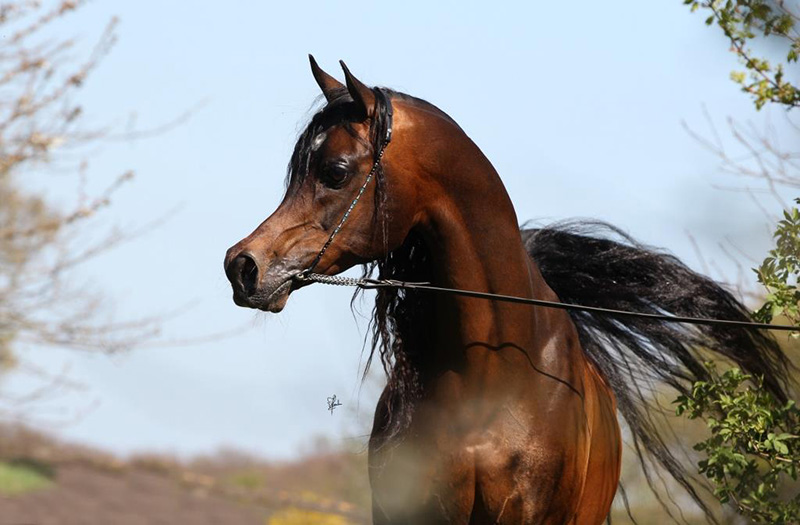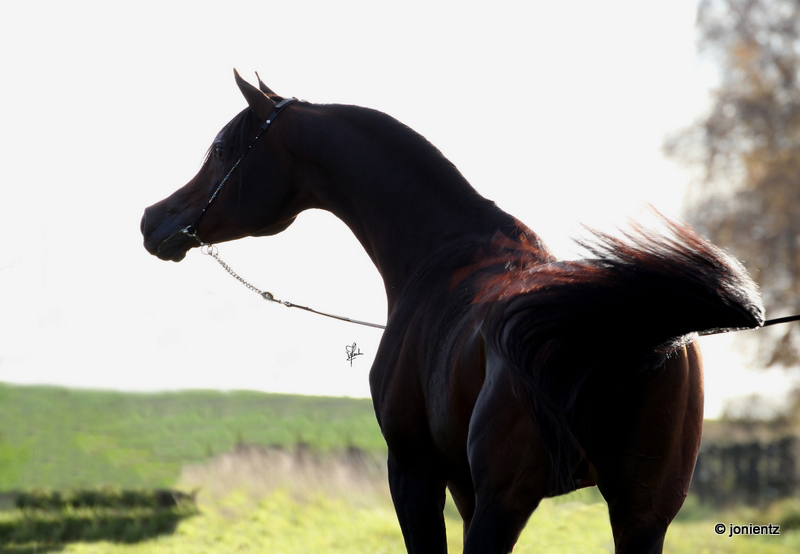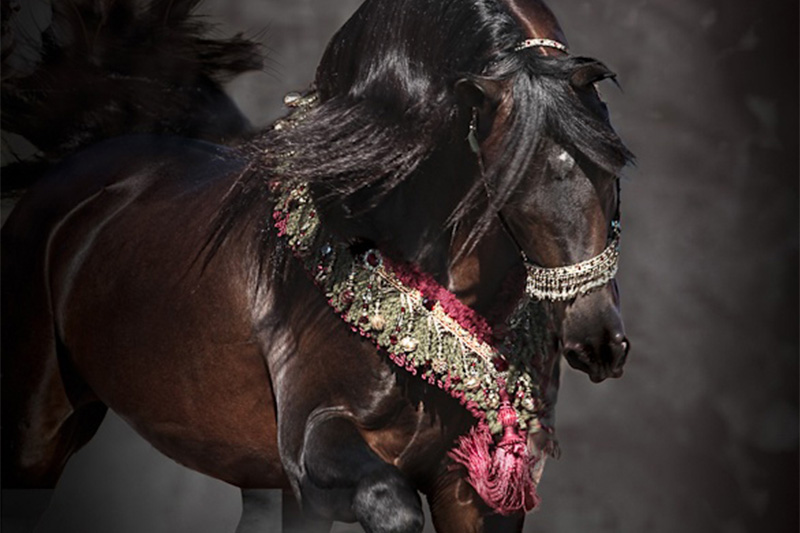 STALLION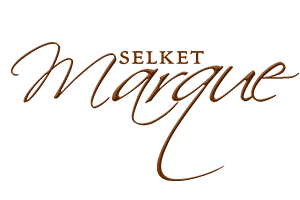 Selket Marque
Selket Khamala x Marwan Al Shaqab
2005 Bay Stallion
CA and SCID clear
Frozen semen available
ABOUT SELKET MARQUE
from Adam Diehl, Arabian Pedigree Research Services
Nobility and grace personified, handsome and rugged, yet elegant, refined and genteel: these attributes have earned SELKET MARQUE the well-deserved barn name Prince Charming. A vision of beauty in the deepest shade of bay, SELKET MARQUE is a shining example of classic Arabian type, endowed with numerous qualities highly sought after but rarely found in combination: he is superb in quality, conformation, personality and pedigree alike. He is beautiful, masculine, charismatic and flamboyant, with a winsome charm. Exemplifying classic desert Arabian type, his short, refined head is set with large, expressive eyes, topping a long gracefully arched neck that flows smoothly into his sleek, muscular body. His sublime beauty is the outward expression of a much deeper quality, built upon a foundation of exceptional conformation, strength, and durability. His legs are long and correct, tipped with exceptional hooves. His long, well sloped shoulder and muscular, well-angulated quarters give him tremendous power, reach and action. His dynamic presence, boundless energy and charisma belie a placid gentleness and kind, giving nature. These qualities combine to make him a joy to behold, handle and ride: affable and always the gentleman, he is the very embodiment of nobility.
SELKET MARQUE is by three-time World Champion, MARWAN AL SHAQAB, holder of 11 National, International and World Champion titles and 13 Leading Sire awards. He has won championships on three continents, most recently earning the titles of 2008 World Champion Stallion and 2009 Qatar International Champion Stallion. MARWAN AL SHAQAB has sired too many champions to name, with over 250 in North American alone. His influence stretches worldwide, with multiple champions and champion-producers on six continents. SELKET MARQUE's paternal grand-dam, LITTLE LIZA FAME, a Canadian National Champion and US National Top-10 in Halter and US National Reserve Champion in western pleasure, brings strong CMK and Polish influences to his pedigree. Tracing back to the earliest importations of Arabian horses to America, *NEDJME, the first mare listed in the AHA stud book, the Davenport foundation mares *WADDUDA and *URFAH, the Kellogg imports *RASEYN and *RISSLETTA (considered to be among the finest individuals to step off of Crabbet Stud), and the desert-bred stallion IMAGE, instrumental to bringing quality and refinement to the Selby and Al Marah programs, all appear prominently in his pedigree. Further back, multiple crosses to RODANIA, BASILISK and WILD THYME connect him to the very beginnings of the Crabbet Stud, while crosses to noted sires WITEZ II and LANDSKNECHT root his pedigree deeply in Poland and Germany, connections deepened by additional crosses to BEY SHAH, US National Champion FAME VF+, *BASK, and *NAGANKA, the founding brood matron of the Varian breeding dynasty.
SELKET MARQUE's paternal grandsire is 2001 World Champion Stallion GAZAL AL SHAQAB, who has sired innumerable champions worldwide, and whose influence as a sire of champion producers cannot be overstated. He is one of a select few outside stallions chosen by the Polish to stand at Janow Podlaski and Michalow, to complement their long established lines. Indeed, GAZAL AL SHAQAB sired numerous champions during his time there, including two of the most renowned mares of Polish breeding: Pianissima and Emandoria, both World Champions who have gone on to become outstanding producers. GAZAL AL SHAQAB owes his balance of type and athleticism to the influences of the refined and exotic straight Egyptian stallion ANAZA AL FARID, and the robust, balanced and elegant KAJORA, a US National Champion Mare. Together, they imbue SELKET MARQUE's pedigree with the finest of Egyptian, Polish and Russian influences, interlaced with renowned champions and champion producers. These include US National Champion RUMINAJA ALI, among the most prominent straight Egyptian sires, and BINT DEENAA, arguably the finest daughter of *ANSATA IBN HALIMA. KAJORA brings the strengths of her sire, two-time U.S. Reserve National Champion Stallion and Canadian National Champion Western Pleasure horse KABORR+++, and her dam, EDJORA, a descendent of the venerated Polish "E" dynasty. Further crosses to *NABORR, *EXELSJOR, BINT KHOLAMEH, WITRAZ and PRIBOJ, all of whom come up over and over in champion pedigrees, round out the sire side of SELKET MARQUE's pedigree.
The dam side of SELKET MARQUE's pedigree is just as brilliant. He is out of SELKET KHAMALA, a rare and sought after daughter of the legendary performance horse and sire *FURNO KHAMAL. With his combination of unusual size, athleticism and beauty, he showed remarkable stamina in training at the racetrack, was a stylish jumper, and was a showstopper in the halter ring. By the time of his export to the United States, he had won four National Championships in three European countries, earned the Salon du Cheval Junior World Champion Stallion title, and received two Gold Medals in the German 100 day test. His get include multiple race winners, endurance, and halter champions, and his daughters have proven to be remarkable broodmares, reliably passing his unique and desirable qualities to the next generation. Their produce rank among the most athletic and versatile in the breed, many of them multiple-champions in cutting, reining, dressage and halter. Among them are National-level halter winners in Britain and Brazil. FURNO KHAMAL can credit much of his classic type to four crosses to NAZEER: two through ASWAN, and one each to NADER and HADBAN ENZAHI, all sought-after Egyptian sires who were used extensively to improve the Russian breeding program. One of their descendants is the Elite Stallion KILIMANDSCHARO, the great grandsire of PADRONS PSYCHE through his daughter KILIFA, a full sister to SELKET MARQUE's grandsire, KAPELLO.
SELKET MARQUE's maternal grand-dam, IMA LADY, is by the Russian sire *EL KASAKA. A son of stakes winner PATRON, he descends from the SAKLAWI I sire line, lauded for its beauty and refinement, and carries multiple crosses to PRIBOJ, NASEEM and ARAX, all renowned for passing size, robustness and balance to their offspring. *EL KASAKA too instilled his get with quality and vigor, and many of them became multiple stakes winners, dressage, western, hunter, English pleasure, and halter champions. Reaching deeper, SELKET MARQUE draws power and stamina from two crosses to PIETUSZOK, renowned as a sire of multiple stakes winners, including *WOSK, *ORZEL, and WILMA. Also represented are the celebrated Polish mare CALIOPE, producer of seven champions, ARFA, a full sister to both *BASK and BANDOLA, and CANARIA, the dam of CELEBES. Deepening his ties to renowned Russian influences, the Elite Mare and Aristocrat Dam TAKTIKA, who beat representatives of all breeds in conformation and class as a halter winner at the USSR All Union Exhibition, adds to his pedigree. Through her, SELKET MARQUE draws on a rich and sought-after wellspring of Russian and Polish heritage, including the invaluable influence of her Crabbet-bred granddam, STAR OF THE HILLS, one of only two mares sired by RASWAN before his untimely loss.
Following his dam line to it root, SELKET MARQUE descends from the desert-bred MLECHA, a grey Kuhaylan Dajaniyah mare acquired in the Saudi Arabia by Count Juliusz Dzieduszycki in 1845. As a founder mare of the Jarczowce Stud, she gave rise to one of the most important families in Polish breeding through her descendent, BALALAJKA, the dam of both the incomparable *BASK and the Queen of Janow, BANDOLA, considered by many to be Poland's most influential brood matron. With these deep roots, SELKET MARQUE represents the culmination of centuries of careful breeding, and his rare combination of exotic type, superb athleticism, balance, charisma and kind personality reflect the best attributes of his forebears and he stands poised to pass these traits on to the next generation.
In a very short time, SELKET MARQUE has established himself as a sire of international significance. SELKET MARQUE has, arguably, the best head among all MARWAN AL SHAQAB stallions in active breeding today, an attribute he reliably passes on to his offspring, along with his exotic type, strength, balance, elegance and symmetry. With large, expressive eyes set within short, dry faces, long, shapely necks, smooth, well-muscled bodies, and superb density and refinement of bone, his progeny exude classic desert Arabian type. Neither is their beauty skin deep: with strong, correctly proportioned bodies, well-angulated shoulders and hips, straight legs, and excellent hooves, they are well endowed with the substance and durability needed in a performance horse. In motion, they are the picture of elegance, flair and nobility. It is no wonder SELKET MARQUE offspring win the hearts of all those who meet them; he is undeniably a sire of excellence, producing foals true to their authentic desert Arabian heritage. With foals on four continents, he has already produced a long list of champions.
With his exquisite blend of beauty, quality, personality, athleticism, and pedigree, SELKET MARQUE is the quintessential Arabian stallion: the pinnacle of modern Arabian breeding. His excellence results from many generations of careful planning and selection, building on a centuries old foundation, each cross complementing and improving on the previous generation. Nothing was overlooked in his creation and he stands as the fulfillment of this long process. A wellspring sought after bloodlines, SELKET MARQUE continues to build on the centuries-old foundation laid by his forebears. A truly balanced individual, he is globally recognized for passing his many desirable traits to his offspring, not the least of which are his beauty, correct structure, elegance, captivating presence and amiable personality. His progeny are proving to surpass even him in these qualities, which will only be amplified as they are, in turn, passed on to future generations. SELKET MARQUE's value to the Arabian breed cannot be overstated and these contributions to future generations are sure to compound this value many times over. He is a prime example of what an Arabian horse should be and his legacy will live on for generations to come.